Looking for the perfect venue for your destination wedding?
Here's Podere Il Pino, a place some newlyweds like to define a "gem in the middle of the breathtaking Tuscan countryside"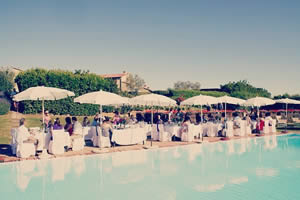 It's been a few years, since we're into destination weddings, and honestly, we love throwing parties for the guests and helping the couple to get everything ready for the Big day, so that the decision of travelling to Italy to exchange their vows in Podere Il Pino, will be well-repaid. Of course deciding for a destination wedding has its pros and cons, here is a small checklist we've roughed out after those who chose our property for their wedding:

Having to do with foreign bureaucracy for the marriage license.
This can be scary, but we have some experience in this kind of things and we can take care of the paperwork and all that concerns the wedding organization. Or, if you prefer, you can choose a wedding planner that you trust and we will work together to get you the most beautiful and relaxed wedding ever;

Being confined in a far place with the relatives you really can't stand.
Podere il Pino has 12 self-catering apartments (this means 50 beds + 22 sofa-beds) each one of them with a private garden and/or a terrace with a stunningly beautiful view on the hamlet of San Gimignano. Let's say it's a kind of a big place, so there's going to be enough place for anyone ;)

Celebrating away from your hometown.
Well, it's possible that some people won't be able to take part in the wedding ceremony due to the distance and the cost of such a trip. But, you may think of having a post-wedding party when you'll be back home; and, for what concerns your guests – well, you're giving them the perfect excuse to visit our beautiful region.
We usually provide the couples with a variety of location and wedding ceremony. For example, you can pick between a marriage in the town hall of the villages nearby Podere Il Pino, or a church.

The Honeymoon.
When you decide for a destination do in Tuscany, choosing where to go on honeymoon shouldn't be that hard, as you already are in a very romantic place full of history and beauty! If you're interested, we can provide you with some really suggestive itineraries through Tuscany.
And last but not least, you'll have the chance to spend some quality time with your loved ones…only if you want to.
Booking
Apartments
Weddings video in Tuscany at Podere il Pino farmhouse
June 16, 2012: Emma & Jonathan
Photo gallery of weddings at Podere il Pino farmhouse in Tuscany