Farmhouse Podere il Pino surroundings: San Gimignano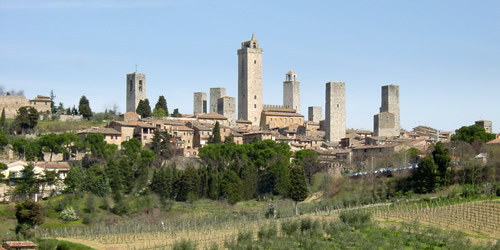 San Gimignano,a famous medieval village 5 km away from Podere il Pino, is a World Heritage Site, thanks to its characteristic towers, which you can admire from Podere il Pino as well. There were, in the past, many more towers then now, in fact a great part of them were destroyed during wars and battles.
There were 72 "house-towers", belonging to the golden age of the Tuscan village; at the end of the Sixteenth Century, however, only 25 still stood, while there are about 14 left nowadays , from which the most ancient one is "Torre del Podestà" and the highest is "Torre Grossa". San Gimignano's fame, does not depend only on its particular architecture , but it depends most of all on its works of art preserved in the museums of the village.
During the Middle Ages, San Gimignano was a great commercial development, with its typical products. The most famous of them is the "Vernaccia di San Gimignano", the typical and exclusive wine of this amazing village, advisible to be tasted whilst sitting in front of the sunset, enjoing the wonderful tuscan landscape.
Surroundings