Libro de visitas - Criticas


Titulo: Rural area was terrific! Views outstanding!
Estado: USA Año: September 2012
Revisión concedida por: Robert

Location was central and very good to get to other Tuscany towns - typically less than 1 hour to the major locations.

Franco was very helpful. Matteo was very responsive and worked with Franco to see that our requests were handled.
Matteo was helpful over the phone, Franco was very helpful, even dealing with our limited ability to speak Italian, in a very professional and friendly manner.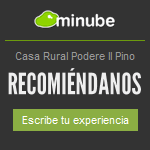 ---